Skip to Main Content
It looks like you're using Internet Explorer 11 or older. This website works best with modern browsers such as the latest versions of Chrome, Firefox, Safari, and Edge. If you continue with this browser, you may see unexpected results.
Welcome
Welcome to the Library's newest reading series, Soldiers' Stories, which will put focus on the lives of Military Intelligence Soldiers and other service members. This second part will highlight Native American Soldiers and Marines, including the Cherokee, Choctaw, Comanche, and Navajo Code Talkers, as well as individual stories, and a historical look at shared Warrior Culture.
This series is for anyone interested in learning more about the lives of Military Intelligence Soldiers. The following months will highlight stories from:
Master Sgt. Woodrow Keeble
Woodrow W. Keeble
2008: First Sioux to receive the Medal of Honor
Master Sgt. Woodrow Keeble is one of the most decorated Soldiers in North Dakota history. A veteran of World War II and the Korean War, he was born in 1917 in Waubay, S.D., on the Sisseton-Wahpeton Sioux Reservation, which extended into North Dakota.... Read more here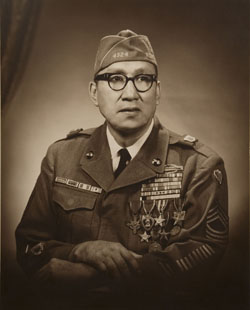 Charles Chibitty
Charles Chibitty
1944: Chibitty was one of 13 Comanche men who landed in France on D-Day in 1944 and used a coded form of their language to transmit secure messages.
Charles Chibitty, the last of the Comanche "code talkers," passed away in Tulsa, Okla., July 20, 2005.... Read more here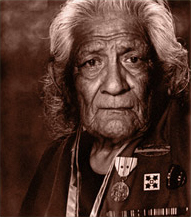 Lori Piestewa
Lori Piestewa
2003: First American Indian woman to die in combat on foreign soil
Pfc. Lori Ann Piestewa was among members of the 507th Maintenance Company from Fort Bliss ambushed near Nasiriyah, Iraq, on March 23, 2003. Nine Soldiers, including Piestewa, were killed in action. She was posthumously promoted to Spc. Piestewa... Read more here