How to Lead: Wisdom from the World's Greatest CEOs, Founders, and Game Changers by David Rubenstein
Gain advice and wisdom from CEOs, presidents, founders, and master performers from the worlds of finance (Warren Buffett, Jamie Dimon, Christine Lagarde, Ken Griffin), tech (Jeff Bezos, Bill Gates, Eric Schmidt, Tim Cook), entertainment (Oprah Winfrey, Lorne Michaels, Renee Fleming, Yo-Yo Ma), sports (Jack Nicklaus, Adam Silver, Coach K, Phil Knight), government (President Bill Clinton, President George W. Bush, Ruth Bader Ginsburg, Nancy Pelosi), and many others. How to Lead shares the extraordinary stories of these pioneering agents of change. Discover how each luminary got started and how they handle decision making, failure, innovation, change, and crisis. Learn from their decades of experience as pioneers in their field. No two leaders are the same.
Risk: A User's Guide by General Stanley McChrystal
From the bestselling author of Team of Teams and My Share of the Task, an entirely new way to understand risk and master the unknown. Retired four-star general Stan McChrystal has lived a life associated with the deadly risks of combat. From his first day at West Point, to his years in Afghanistan, to his efforts helping business leaders navigate a global pandemic, McChrystal has seen how individuals and organizations fail to mitigate risk. Why? Because they focus on the probability of something happening instead of the interface by which it can be managed. In this new book, General McChrystal offers a battle-tested system for detecting and responding to risk. Instead of defining risk as a force to predict, McChrystal and coauthor Anna Butrico show that there are in fact ten dimensions of control we can adjust at any given time. By closely monitoring these controls, we can maintain a healthy Risk Immune System that allows us to effectively anticipate, identify, analyze, and act upon the ever-present possibility that things will not go as planned. Drawing on examples ranging from military history to the business world, and offering practical exercises to improve preparedness, McChrystal illustrates how these ten factors are always in effect, and how by considering them, individuals and organizations can exert mastery over every conceivable sort of risk that they might face. We may not be able to see the future, but with McChrystal's hard-won guidance, we can improve our resistance and build a strong defense against what we know--and what we don't.
Multipliers: How the Best Leaders Make Everyone Smarter by Liz Wiseman
A revised and updated edition of the acclaimed Wall Street Journal bestseller that explores why some leaders drain capability and intelligence from their teams while others amplify it to produce better results. We've all had experience with two dramatically different types of leaders. The first type drains intelligence, energy, and capability from the people around them and always needs to be the smartest person in the room. These are the idea killers, the energy sappers, the diminishers of talent and commitment. On the other side of the spectrum are leaders who use their intelligence to amplify the smarts and capabilities of the people around them. When these leaders walk into a room, light bulbs go off over people's heads; ideas flow and problems get solved. These are the leaders who inspire employees to stretch themselves to deliver results that surpass expectations. These are the Multipliers. And the world needs more of them, especially now when leaders are expected to do more with less. In this engaging and highly practical book, leadership expert Liz Wiseman explores these two leadership styles, persuasively showing how Multipliers can have a resoundingly positive and profitable effect on organizations--getting more done with fewer resources, developing and attracting talent, and cultivating new ideas and energy to drive organizational change and innovation. In analyzing data from more than 150 leaders, Wiseman has identified five disciplines that distinguish Multipliers from Diminishers. These five disciplines are not based on innate talent; indeed, they are skills and practices that everyone can learn to use--even lifelong and recalcitrant Diminishers. Lively, real-world case studies and practical tips and techniques bring to life each of these principles, showing you how to become a Multiplier too, whether you are a new or an experienced manager. This revered classic has been updated with new examples of Multipliers, as well as two new chapters one on accidental Diminishers, and one on how to deal with Diminishers. Just imagine what you could accomplish if you could harness all the energy and intelligence around you. Multipliers will show you how.
Radical Candor by Kim Scott
From the time we learn to speak, we're told that if you don't have anything nice to say, don't say anything at all. When you become a manager, it's your job to say it -- and your obligation. Author Kim Scott was an executive at Google and then at Apple, where she developed a class on how to be a good boss. Radical Candor is a simple idea: to be a good boss, you have to Care Personally at the same time that you Challenge Directly. When you challenge without caring, it's obnoxious aggression; when you care without challenging, it's ruinous empathy. When you do neither, it's manipulative insincerity. This simple framework can help you build better relationships at work, and fulfill your three key responsibilities as a leader: creating a culture of feedback (praise and criticism), building a cohesive team, and achieving results you're all proud of.
A Higher Loyalty: Truth, Lies, and Leadership by James Comey
In his book, former FBI director James Comey shares his never-before-told experiences from some of the highest-stakes situations of his career in the past two decades of American government, exploring what good, ethical leadership looks like, and how it drives sound decisions. His journey provides an unprecedented entry into the corridors of power, and a remarkable lesson in what makes an effective leader. Mr. Comey served as director of the FBI from 2013 to 2017, appointed to the post by President Barack Obama. He previously served as U.S. attorney for the Southern District of New York, and the U.S. deputy attorney general in the administration of President George W. Bush. From prosecuting the Mafia and Martha Stewart to helping change the Bush administration's policies on torture and electronic surveillance, overseeing the Hillary Clinton e-mail investigation as well as ties between the Trump campaign and Russia, Comey has been involved in some of the most consequential cases and policies of recent history.
G-2: Intelligence for Patton by Oscar W. Koch
The enigmatic science of military intelligence is examined in this personal record, written by Brig.Gen. Oscar W. Koch, who served during World War II as chief of intelligence for General George S. Patton, Jr., one of the most colorful military leaders in American history. General Koch traces the growth and development of the infant science through detailed accounts of the intelligence role in some of the most celebrated battles of the war, and through his personal remembrances of Patton and his relationships with members of his intelligence staff. His story moves from the African campaign through Sicily, into France on D-Day and on to the Battle of the Bulge, pointing out how the work of the intelligence staff made the differences in the final reckoning. General Koch's book is more than a historical study, however. It is the exciting story of the operations behind the cloak and dagger illusions.
Secret Agencies: U.S. Intelligence in a Hostile World by Loch Johnson
When are aggressive clandestine operations justifiable, and who should be responsible for deciding to proceed with them? Should the United States engage in more aggressive economic espionage? These are just a few of the issues Loch Johnson examines in this thoughtful assessment of strategic intelligence and its vital role in modern governments." Johnson, a political science professor, served as special assistant to members of several congressional committees on intelligence.
Leadership in Turbulent Times by Doris Kearns Goodwin
Pulitzer Prize-winning author Doris Kearns Goodwin offers an illuminating exploration of the early development, growth, and exercise of leadership. Are leaders born or made? Where does ambition come from? How does adversity affect the growth of leadership? Does the leader make the times or do the times make the leader? In Leadership, Goodwin draws upon the four presidents she has studied most closely--Abraham Lincoln, Theodore Roosevelt, Franklin D. Roosevelt, and Lyndon B. Johnson (in civil rights)--to show how they recognized leadership qualities within themselves and were recognized as leaders by others. By looking back to their first entries into public life, we encounter them at a time when their paths were filled with confusion, fear, and hope. Leadership tells the story of how they all collided with dramatic reversals that disrupted their lives and threatened to shatter forever their ambitions. Nonetheless, they all emerged fitted to confront the contours and dilemmas of their times. No common pattern describes the trajectory of leadership. Although set apart in background, abilities, and temperament, these men shared a fierce ambition and a deep-seated resilience that enabled them to surmount uncommon hardships. At their best, all four were guided by a sense of moral purpose. At moments of great challenge, they were able to summon their talents to enlarge the opportunities and lives of others. This seminal work provides an accessible and essential road map for aspiring and established leaders in every field. In today's polarized world, these stories of authentic leadership in times of apprehension and fracture take on a singular urgency.
Torchbearers of Democracy: African American Soldiers in the World War I Era by Chad L. Williams
The author connects the history of African American soldiers and veterans to issues such as the obligations of citizenship, combat and labor, diaspora and internationalism, homecoming and racial violence, "New Negro" militancy, and African American historical memories of the war. Democracy may have been distant from the everyday lives of African Americans at the dawn of the war, but it nevertheless remained a powerful ideal that sparked the hopes of black people throughout the country for societal change. Torchbearers of Democracy reclaims the legacy of black soldiers and establishes the World War I era as a defining moment in the history of African Americans and peoples of African descent more broadly.
Midnight in Broad Daylight: A Japanese American Family Caught Between Two Worlds by Pamela R. Sakamoto
Meticulously researched and beautifully written, the true story of a Japanese American family that found itself on opposite sides during World War II--an epic tale of family, separation, divided loyalties, love, reconciliation, loss, and redemption--this is a riveting chronicle of U.S.-Japan relations and the Japanese experience in America. After their father's death, Harry, Frank, and Pierce Fukuhara--all born and raised in the Pacific Northwest--moved to Hiroshima, their mother's ancestral home. Eager to go back to America, Harry returned in the late 1930s. Then came Pearl Harbor. Harry was sent to an internment camp until a call came for Japanese translators and he dutifully volunteered to serve his country. Back in Hiroshima, his brothers Frank and Pierce became soldiers in the Japanese Imperial Army. As the war raged on, Harry, one of the finest bilingual interpreters in the United States Army, island-hopped across the Pacific, moving ever closer to the enemy--and to his younger brothers. But before the Fukuharas would have to face each other in battle, the U.S. detonated the atomic bomb over Hiroshima, gravely injuring tens of thousands of civilians, including members of their family. Alternating between the American and Japanese perspectives, Midnight in Broad Daylight captures the uncertainty and intensity of those charged with the fighting as well as the deteriorating home front of Hiroshima--as never told before in English--and provides a fresh look at the dropping of the first atomic bomb. Intimate and evocative, it is an indelible portrait of a resilient family, a scathing examination of racism and xenophobia, an homage to the tremendous Japanese American contribution to the American war effort, and an invaluable addition to the historical record of this extraordinary time.
Alone at Dawn: Medal of Honor Recipient John Chapman and the Untold Story of the World's Deadliest Special Operations Force by Dan Schilling
The New York Times bestselling true account of John Chapman, Medal of Honor recipient and Special Ops Combat Controller, and his heroic one-man stand during the Afghan War, as he sacrificed his life to save the lives of twenty-three comrades-in-arms. In the predawn hours of March 4, 2002, just below the 10,469-foot peak of a mountain in eastern Afghanistan, a fierce battle raged. Outnumbered by Al Qaeda fighters, Air Force Combat Controller John Chapman and a handful of Navy SEALs struggled to take the summit in a desperate bid to find a lost teammate. Chapman, leading the charge, was gravely wounded in the initial assault. Believing he was dead, his SEAL leader ordered a retreat. Chapman regained consciousness alone, with the enemy closing in on three sides. John Chapman's subsequent display of incredible valor -- first saving the lives of his SEAL teammates and then, knowing he was mortally wounded, single-handedly engaging two dozen hardened fighters to save the lives of an incoming rescue squad -- posthumously earned him the Medal of Honor. Chapman is the first airman in nearly fifty years to be given the distinction reserved for America's greatest heroes. Alone at Dawn is also a behind-the-scenes look at the Air Force Combat Controllers: the world's deadliest and most versatile special operations force, whose members must not only exceed the qualifications of Navy SEAL and Army Delta Force teams but also act with sharp decisiveness and deft precision -- even in the face of life-threatening danger. Drawing from firsthand accounts, classified documents, dramatic video footage, and extensive interviews with leaders and survivors of the operation, Alone at Dawn is the story of an extraordinary man's brave last stand and the brotherhood that forged him.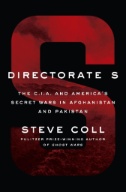 Directorate S: The C.I.A. and America's Secret Wars in Afghanistan and Pakistan by Steve Coll
Winner of the 2018 National Book Critics Circle Award for Nonfiction Longlisted for the 2018 National Book Award for Nonfiction From the Pulitzer Prize-winning author of Ghost Wars, the epic and enthralling story of America's intelligence, military, and diplomatic efforts to defeat Al Qaeda and the Taliban in Afghanistan and Pakistan since 9/11 Prior to 9/11, the United States had been carrying out small-scale covert operations in Afghanistan, ostensibly in cooperation, although often in direct opposition, with I.S.I., the Pakistani intelligence agency. While the US was trying to quell extremists, a highly secretive and compartmentalized wing of I.S.I., known as "Directorate S," was covertly training, arming, and seeking to legitimize the Taliban, in order to enlarge Pakistan's sphere of influence. After 9/11, when fifty-nine countries, led by the U. S., deployed troops or provided aid to Afghanistan in an effort to flush out the Taliban and Al Qaeda, the U.S. was set on an invisible slow-motion collision course with Pakistan. Today we know that the war in Afghanistan would falter badly because of military hubris at the highest levels of the Pentagon, the drain on resources and provocation in the Muslim world caused by the U.S.-led invasion of Iraq, and corruption. But more than anything, as Coll makes painfully clear, the war in Afghanistan was doomed because of the failure of the United States to apprehend the motivations and intentions of I.S.I.'s "Directorate S". This was a swirling and shadowy struggle of historic proportions, which endured over a decade and across both the Bush and Obama administrations, involving multiple secret intelligence agencies, a litany of incongruous strategies and tactics, and dozens of players, including some of the most prominent military and political figures. A sprawling American tragedy, the war was an open clash of arms but also a covert melee of ideas, secrets, and subterranean violence. Coll excavates this grand battle, which took place away from the gaze of the American public. With unsurpassed expertise, original research, and attention to detail, he brings to life a narrative at once vast and intricate, local and global, propulsive and painstaking. This is the definitive explanation of how America came to be so badly ensnared in an elaborate, factional, and seemingly interminable conflict in South Asia. Nothing less than a forensic examination of the personal and political forces that shape world history, Directorate S is a complete masterpiece of both investigative and narrative journalism.
Ghost Soldiers: The Epic Account of World War II's Greatest Rescue Mission by Hampton Sides
On January 28, 1945, 121 hand-selected U.S. troops slipped behind enemy lines in the Philippines. Their mission: March thirty rugged miles to rescue 513 POWs languishing in a hellish camp, among them the last survivors of the infamous Bataan Death March. A recent prison massacre by Japanese soldiers elsewhere in the Philippines made the stakes impossibly high and left little time to plan the complex operation. In Ghost Soldiers Hampton Sides vividly re-creates this daring raid, offering a minute-by-minute narration that unfolds alongside intimate portraits of the prisoners and their lives in the camp. Sides shows how the POWs banded together to survive, defying the Japanese authorities even as they endured starvation, tropical diseases, and torture. Harrowing, poignant, and inspiring, Ghost Soldiers is the mesmerizing story of a remarkable mission. It is also a testament to the human spirit, an account of enormous bravery and self-sacrifice amid the most trying conditions.
Ghost Fleet: A Novel of the Next World War by P.W. Singer
The year is 2026. China has taken over as the world's largest economy, while the United States, mired in an oil shortage, struggles to adjust to its diminished role. Then, a surprise attack throws the US into a chaos unseen since Pearl Harbor. As the enemy takes control, the survival of the nation will depend upon the most unlikely forces: the Navy's antiquated Ghost Fleet and a cadre of homegrown terrorists. Ghost Fleet is unique in that every piece of technology featured in the novel already exists or is in the works. Peter W. Singer is Senior Fellow and Director of the 21st Century Defense Initiative at the Brookings Institution and a consultant for the US Department of Defense and FBI. August Cole is a journalist and writer specializing in national security issues and is an Adjunct Fellow at the American Security Project.
A Message to Garcia by Elbert Hubbard
A Message to Garcia is Hubbard's most famous work. In it, he argues that the greatest hero is the man who simply does his job, completing the task no matter what the obstacles. Within Hubbard's lifetime, the message was reprinted more than any book besides the Bible. Today, it is required reading at US military academies.
Fail-Safe by Eugene Burdick and Harvey Wheeler
Something has gone wrong. A group of American bombers armed with nuclear weapons is streaking past the fail-safe point, beyond recall, and no one knows why. Their destination -- Moscow. In a bomb shelter beneath the White House, the calm young president turns to his Russian translator and says, "I think we are ready to talk to Premier Kruschchev." Not far away, in the War Room at the Pentagon, the secretary of defense and his aides watch with growing anxiety as the luminous blips crawl across a huge screen map. High over the Bering Strait in a large Vindicator bomber, a colonel stares in disbelief at the attack code number on his fail-safe box and wonders if it could possibly be a mistake. First published in 1962, when America was still reeling from the Cuban missle crisis, Fail-Safe reflects the apocalyptic attitude that pervaded society during the height of the Cold War, when disaster could have struck at any moment. As more countries develop nuclear capabilities and the potential for new enemies lurks on the horizon, Fail-Safe and its powerful issues continue to respond.
How I Stayed Alive When My Brain Was Trying to Kill Me, Revised Edition: One Person's Guide to Suicide Prevention by Susan Rose Blauner
A survivor of multiple suicide attempts, Blauner eloquently describes the feelings and fantasies surrounding suicide. In a direct, nonjudgmental, and loving voice, she offers affirmations and suggestions for those experiencing life-ending thoughts, and for their friends and family.
Brief: make a bigger impact by saying less by Joseph McCormack
Author Joe McCormack tackles the challenges of inattention, interruptions, and impatience that every professional faces. His proven B.R.I.E.F. approach, which stands for Background, Relevance, Information, Ending, and Follow up, helps simplify and clarify complex communication. BRIEF will help you summarize lengthy information, tell a short story, harness the power of infographics and videos, and turn monologue presentations into controlled conversations.
Range: Why Generalists Triumph in a Specialized World by David Epstein
Plenty of experts argue that anyone who wants to develop a skill, play an instrument, or lead their field should start early, focus intensely, and rack up as many hours of deliberate practice as possible. If you dabble or delay, you'll never catch up to the people who got a head start. But a closer look at research on the world's top performers, from professional athletes to Nobel laureates, shows that early specialization is the exception, not the rule. David Epstein examined the world's most successful athletes, artists, musicians, inventors, forecasters and scientists. He discovered that in most fields--especially those that are complex and unpredictable--generalists, not specialists, are primed to excel. Generalists often find their path late, and they juggle many interests rather than focusing on one. They're also more creative, more agile, and able to make connections their more specialized peers can't see. Provocative, rigorous, and engrossing, Range makes a compelling case for actively cultivating inefficiency. Failing a test is the best way to learn. Frequent quitters end up with the most fulfilling careers. The most impactful inventors cross domains rather than deepening their knowledge in a single area. As experts silo themselves further while computers master more of the skills once reserved for highly focused humans, people who think broadly and embrace diverse experiences and perspectives will increasingly thrive.
GRIT: The Power of Passion and Perseverance by Angela Duckworth
In this instant New York Times bestseller, pioneering psychologist Angela Duckworth shows anyone striving to succeed--be it parents, students, educators, athletes, or business people--that the secret to outstanding achievement is not talent but a special blend of passion and persistence she calls "grit." Drawing on her own powerful story as the daughter of a scientist who frequently noted her lack of "genius," Duckworth, now a celebrated researcher and professor, describes her early eye-opening stints in teaching, business consulting, and neuroscience, which led to the hypothesis that what really drives success is not "genius" but a unique combination of passion and long-term perseverance. In Grit, she takes readers into the field to visit cadets struggling through their first days at West Point, teachers working in some of the toughest schools, and young finalists in the National Spelling Bee. She also mines fascinating insights from history and shows what can be gleaned from modern experiments in peak performance. Finally, she shares what she's learned from interviewing dozens of high achievers--from JP Morgan CEO Jamie Dimon to New Yorker cartoon editor Bob Mankoff to Seattle Seahawks Coach Pete Carroll. Among Grit's most valuable insights: *Why any effort you make ultimately counts twice toward your goal *How grit can be learned, regardless of I.Q. or circumstances *How lifelong interest is triggered *How much of optimal practice is suffering and how much ecstasy *Which is better for your child--a warm embrace or high standards *The magic of the Hard Thing Rule Winningly personal, insightful, and even life-changing, Grit is a book about what goes through your head when you fall down, and how that--not talent or luck--makes all the difference.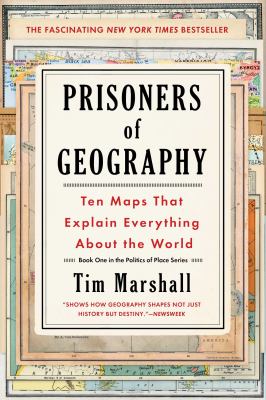 Prisoners of Geography: Ten Maps That Explain Everything About the World by Tim Marshall
In the bestselling tradition of Why Nations Fail and The Revenge of Geography, an award-winning journalist uses ten maps of crucial regions to explain the geo-political strategies of the world powers. All leaders of nations are constrained by geography. Their choices are limited by mountains, rivers, seas, and concrete. To understand world events, news organizations and other authorities often focus on people, ideas, and political movements, but without geography, we never have the full picture. Now, in the relevant and timely Prisoners of Geography, seasoned journalist Tim Marshall examines Russia, China, the USA, Latin America, the Middle East, Africa, Europe, Japan and Korea, and Greenland and the Arctic--their weather, seas, mountains, rivers, deserts, and borders--to provide a context often missing from our political reportage: how the physical characteristics of these countries affect their strengths and vulnerabilities and the decisions made by their leaders. In ten, up-to-date maps of each region, Marshall explains in clear and engaging prose the complex geo-political strategies of these key parts of the globe. What does it mean that Russia must have a navy, but also has frozen ports six months a year? How does this affect Putin's treatment of the Ukraine? How is China's future constrained by its geography? Why will Europe never be united? Why will America never be invaded? Shining a light on the unavoidable physical realities that shape all of our aspirations and endeavors, Prisoners of Geography is the critical guide to one of the major (and most often overlooked) determining factors in world history.